MAGNIFICAT Special Musical Performance
December 15, 2019 11:00am
Address: Church of the Good Shepherd, 7834 Tennyson NE, Albuquerque, NM US 87122
Contact: Erica Saade e
Church of the Good Shepherd's Chancel Choir presents "Magnificat" by Francesco Durante. The Choir and soloists will be joined by a String Quartet and Harpsichord, comprised of some of Albuquerque's finest musicians.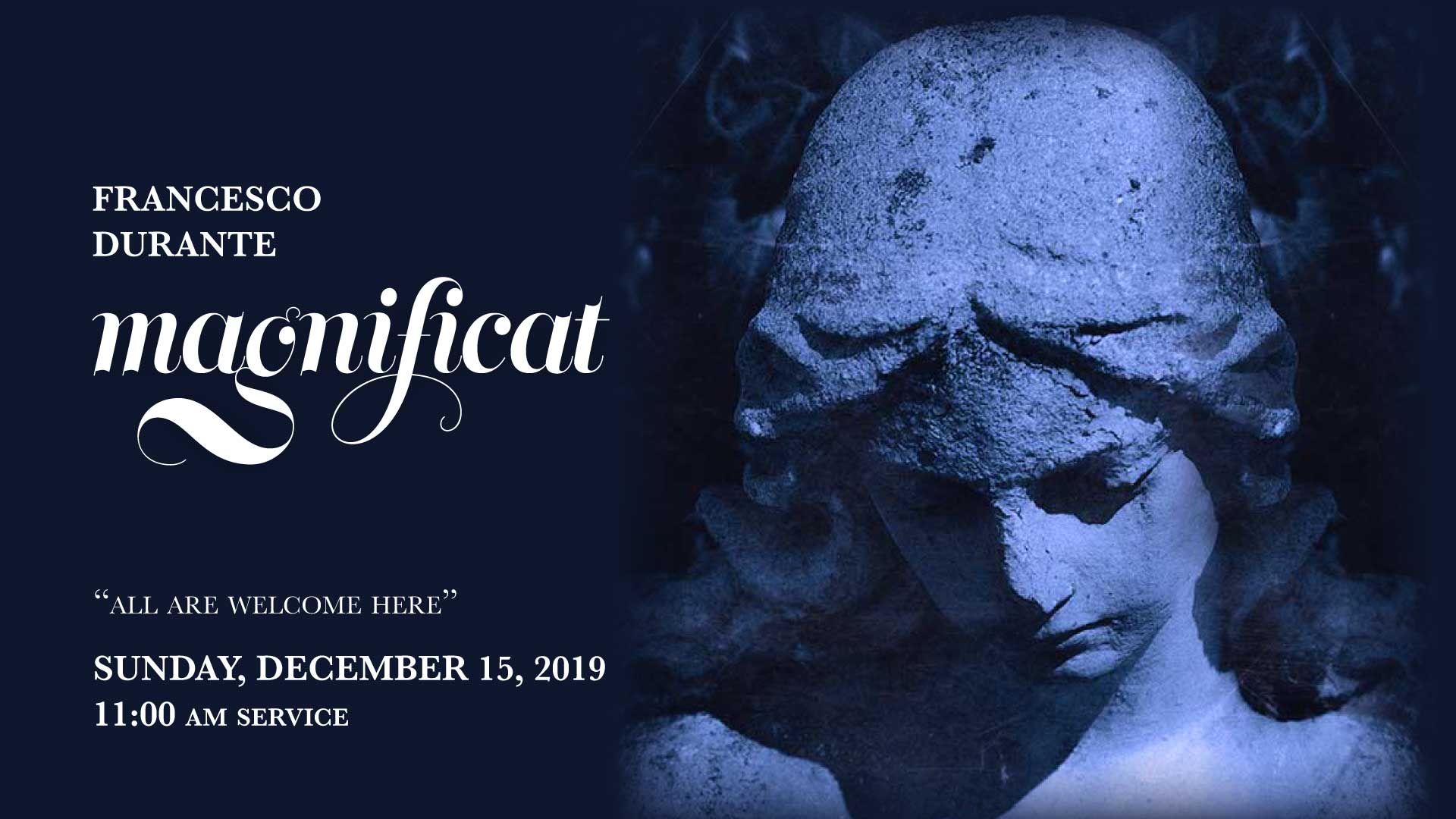 Francesco Durante (1684-1755) distinguished himself as a composer of church music. This is unique as Durante was Neapolitan and it was the fashion among composers of the day to throw their respective hats into the ring of the operatic repertoire. This was not so for Durante who chose to devote himself almost solely to liturgical music. Perhaps the most famous example of Durante's liturgical output, the Magnificat in B flat Major is also his most controversial. While the most recent and reliable research appoints Durante as the composer of the Magnificat, it has also been attributed to Pergolesi (who was a pupil of Durante) and thus, at least until quite recently, the work's origin has been shrouded in relative mystery.
The piece consists of six movements with the first movement built around the eighth psalm tone cantus firmus, an ancient melody. In each successive movement, the opening melody is treated with overlapping, imitative polyphony and is then woven throughout the entire movement using text, tempo and vocal color to give it its own particular character. The recapitulation of the opening chorus at the end of a work was a growing practice for Neapolitan composers in the latter half of the eighteenth century. In the sixth movement, we see this with an almost literal repeat of the opening material, this time using the 'Sicut erat' to complete the Magnificat.
Origin of Magnificat
Magnificat, also called Canticle of Mary or Ode of the Theotokos, in Christianity, the hymn of praise by Mary, the mother of Jesus, found in Luke 1:46–55. ... It is named after the first word of its first line in Latin ("Magnificat anima mea Dominum," or "My soul magnifies the Lord").
Luke 1:47-55
"My soul magnifies the Lord
And my spirit rejoices in God my Savior;
Because He has regarded the lowliness of His handmaid;
For behold, henceforth all generations shall call me blessed;
Because He who is mighty has done great things for me,
and holy is His name;
And His mercy is from generation to generation
on those who fear Him.
He has shown might with His arm,
He has scattered the proud in the conceit of their heart.
He has put down the mighty from their thrones,
and has exalted the lowly.
He has filled the hungry with good things,
and the rich He has sent away empty.
He has given help to Israel, his servant, mindful of His mercy
Even as he spoke to our fathers, to Abraham, and to his posterity forever."